Construct Smarter with a Digital Twin
Connect the whole supply chain. Reduce risk, errors, inefficiency and waste. Get powerful real time visibility. Powered by Vault's 3D spatial intelligence.
Connected Construction
Our Vault 3D Spatial Intelligence platform harnesses IoT connectivity to create a digital twin of a construction site (a spatial model).
VAULT:
Provides live insights - onsite
Connects the whole supply chain
Digitises manual processes
Provides more efficient tracking of human and equipment resources, project status, and employee safety
Digitises and captures site records with total spatial accuracy.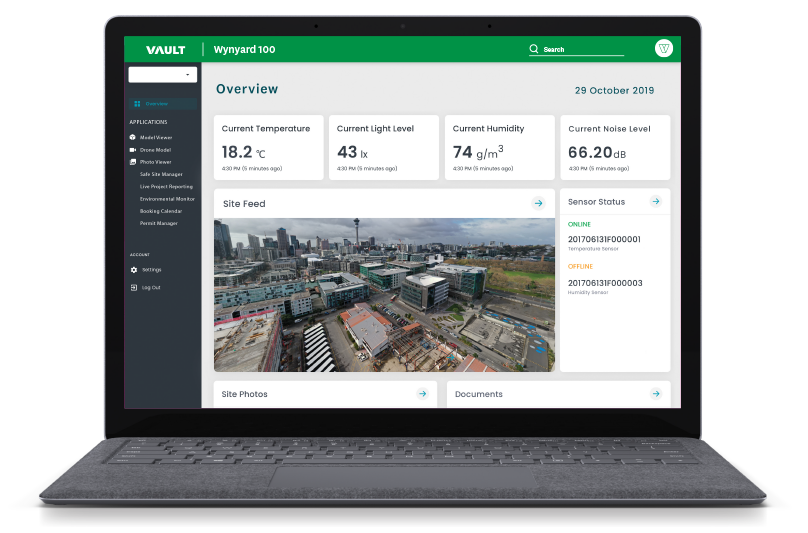 Wynyard 100 - New Zealand's First Connected Construction Site
asBuilt's collaboration with Microsoft, Spark and construction company NZ Strong has resulted in the first 'connected construction site' in New Zealand.
Partners
NZ Strong, Microsoft and Spark
Scale
Mixed Use Development across 30,000sqm.
Services
Capture, Model. Connected Construction
Links
Problem
NZ Strong needed a way to manage council noise compliance on their construction site and gain greater efficiencies in construction management.
Solution
A 'smart' construction site with IoT for live insights on:
Outcomes
Halved client time spent on reporting and managing regulatory requirements
Safer construction
Reduced costs
Real-time decision making
Better communication and connection of all stakeholders to ONE digital hub
Why
Due to a poor level of digitisation (second only to agriculture according to statistics) and an industry that is used to working in silos, the New Zealand construction industry has long been plagued by; inefficiences, poor safety and poor communication.
To help, asBuilt has strategically developed unique workflows and customised software that enables stakeholders to align and collaborate in a single structured data environment - a digital twin.
What

CONNECTED CONSTRUCTION = 3D SPATIAL INTELLIGENCE + LIVE INSIGHTS WITH IOT, ML AND AI

Wynyard 100 combines intelligent Internet of Things (IoT) devices; Microsoft Azure cloud and Power BI technology; drone and 3D camera imaging; and geolocation.
A 'digital twin' of the building is hosted in asBuilt's Vault platform and is accessible to the Wynyard 100 team to monitor people, plant and environment.
Machine learning is used to count people, measure environmental parameters (light, sound, CO2, temperature, particles), read license plates, identify whether personnel are wearing safety equipment or entering exclusion zones.
External equipment-tracking plugins from contractors such as crane providers are integrated via the Azure cloud and external data streams from ERP systems and telematics providers.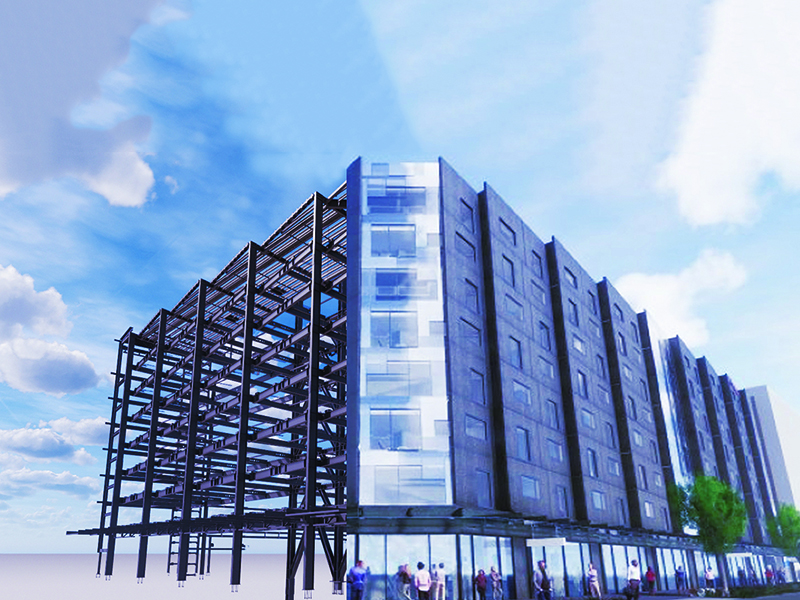 A Smarter Future – today
The construction industry remains one of the least digitised industries, with poor productivity, a heavy environmental footprint and a poor safety record. A lot of time onsite is wasted waiting for equipment to arrive, working out exactly where something should be installed, interpreting printed plans and documents and fixing miscommunications. Time is money. Vault provides the foundation for a future in which:
The entire supply chain can shift from 'silo' to 'flow' as they connect to ONE aligned platform
Manual processes are digitised and optimised in the digital realm
Carbon outputs are monitored and site waste is tracked
Environmental sensors provide data on temperature, noise, wind speed and more
Workers are safer and pre-alerted as to hazardous zones and potential onsite dangers
Team members can order plant equipment digitally – saving paperwork and downtime
Permit management is streamlined and stakeholders informed of permit status
Employees are digitally inducted on to the site for optimal Health and Safety compliance.
Smart Construction Thinking
Software
Vault - Bring data to life with 3D data certainty.
asBuilt Vault helps asset owners manage and mine digital twins throughout their entire life cycles, delivering smarter performing assets.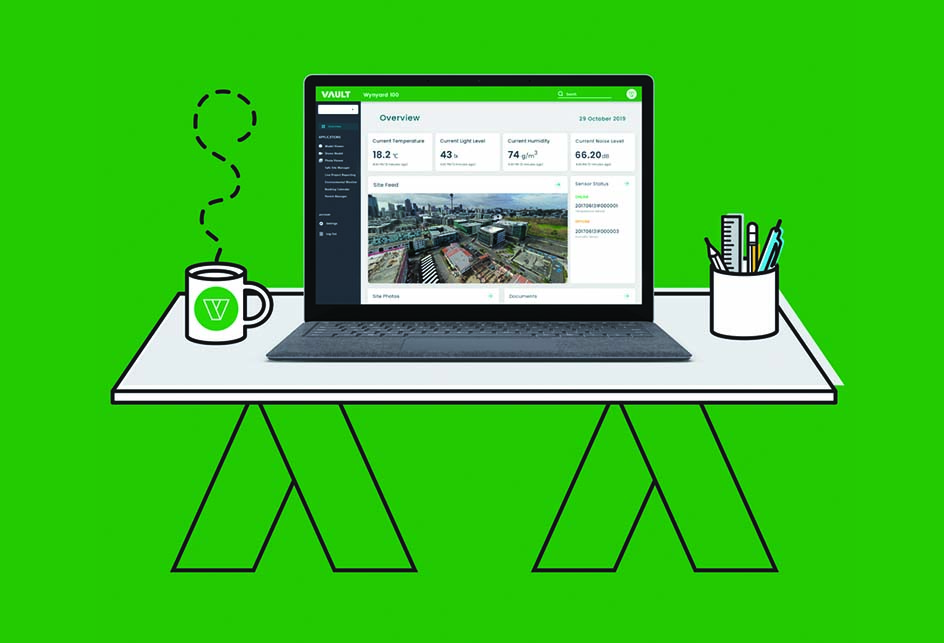 SPARK WEBINAR
Hear our CEO, Dave on his favourite topic
Harnessing IoT technologies to construct smarter.
Helpful Connected Construction Tools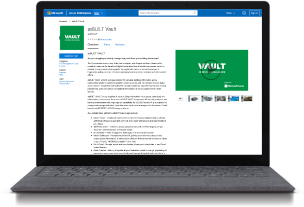 VISIT VAULT ON THE MICROSOFT MARKETPLACE
Check out our Microsoft ISV partner listing for Vault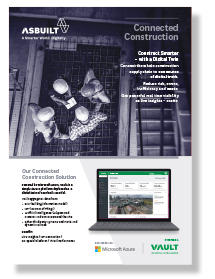 CONNECTED CONSTRUCTION INFO SHEET
Find out how you can have a Connected Construction site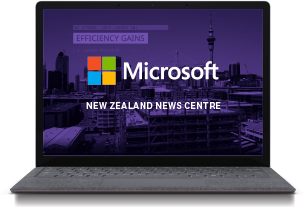 ON THE MICROSOFT NEWS CENTRE
Read the full story of New Zealand's first ever Connected Construction site